November 06, 2005
King of Twang: An Interview with Duane Eddy
by Courtney Grimes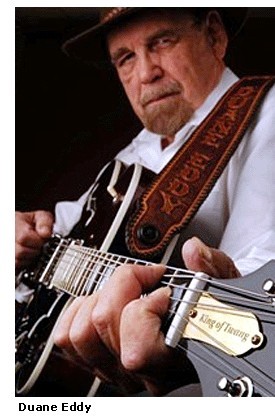 The name Duane Eddy is synonymous with legendary. The most successful and influential instrumentalist in rock 'n' roll history, Duane Eddy blended his signature styles of blues, jazz and gospel, to develop a unique rock and roll sound. He used strong, dramatic, single-note melodies, combined with the bending of the low strings to produce a sound unlike anything ever heard before – Twang.
"Duane Eddy was the front guy, the first rock and roll guitar god," said John Fogerty. "Here was a guy who was laying down the template for how to get across to the public." Duane's sound and musical influence has been prevalent over the past four decades, as he consistently broke new ground, producing over 25 albums and recording numerous tracks with artists such as Bob Dylan, Willie Nelson and Waylon Jennings. He garnered a Grammy Award for Best Rock Instrumental – Peter Gunn, and a Grammy Nomination for Best Country Instrumental.
As if he hadn't accomplished more than a lifetime of achievements, Duane was inducted into the Rock and Roll Hall of Fame (1994), and his hit "Rebel Rouser" was used in the soundtrack for the timeless film Forrest Gump, while producer Oliver Stone picked up "The Trembler" for his film Natural Born Killers. Duane also joined Academy Award winning composer, Hans Zimmer, on the title song of the soundtrack of Broken Arrow, pieces of which were also used in the movie Scream 2.
Duane recently visited Gibson to be photographed with his 2004 Signature Gibson, which was built by the Gibson Custom Shop according to Duane's specifications. During his visit, he chatted about his career milestones, meeting B.B. King, and what he still learns from other guitarists.
When and how did you first begin learning to play the guitar?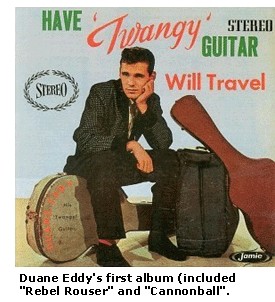 Duane Eddy: When I first picked up a guitar was about five-years-old. My dad had one and taught me a few chords and I just went from there. It was a little acoustic of some kind. I loved Gene Autry and Roy Rogers in those days – the cowboys. So I'd learn those songs and sing 'em and play 'em. And when I was about…I guess ten or 11 or so I started getting more serious about it. I never had any lessons, but I would watch people. I didn't know you could play way up on the neck for a long time. I knew the G chord and the C chord and things like that, but didn't realize you could do a lot of notes. Then I started working in a country band. I started recording when I was 19.
What were some of the very first things you recorded?
Eddy: The first song I had out was a song called "Movin' and Groovin'" which got up to about 70 with an anchor. And they said, 'well that was pretty good, go back in and do another one.' So we went back in and did "Rebel Rouser," which was the first hit I had. And after that we just kept doing them again and again for about five years. It was fun.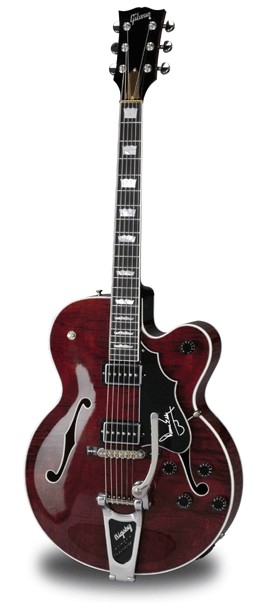 Tell me about your Signature Gibson.
Eddy: Mike McGuire at the Gibson Custom Shop put this guitar together for me. He's been wanting to make one for me and I've been wanting him to make one for me so that worked out pretty good. So we made a Signature guitar and they came out with this beautiful instrument, and it's one of the best ones that Gibson makes. Well…(laughing) at least for this price range.
What's your favorite thing about it?
Eddy: I don't know what the best thing about it is…the way it's put together, the way it plays, the way it sounds…I always had a big sound but this has got a bigger, warmer sound to it. I've used it in a few shows and it works great.

You know the first guitar I ever bought was a '53 Goldtop Les Paul. And I bought it in '53. It was only $45 or $50 at a hardware store in Arizona. And I traded that in and got $65 for it in 1957.
It's said that your "Twangy Guitar" baptized the birth of the rock guitar. What do you think about that?
Eddy: That's interesting, I haven't heard that before. That's a nice, little quote. Well I was the first one to actually – in rock and roll – to do an instrumental and be an artist with a guitar - which is pretty revolutionary back then, in the birthing days of rock 'n' roll.
What was it like when you were inducted into the Rock and Roll Hall of Fame?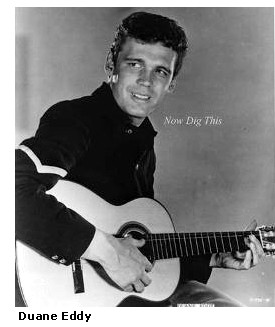 Eddy: It was cool. Now I got a place to leave all my old stuff. It was very cool, I enjoyed it. It's kind of a milestone I guess. I guess I did something that counted.
Who is your favorite artist that you've ever recorded with? Anyone that stands out as especially funny or crazy?
Eddy: Boy, that's a toss up. I did an album a few years back with Paul McCartney and George Harrison and John Fogerty and all of them fit that description!
What upcoming projects do you have?
Eddy: I'm starting a new project, and we've just gone one track done so far. It's this little rock and roll song with Brian Setzer. He's a great player. And he's fun and crazy! Anyway it's kind of a Stray Cats kinda feel, and it's called "That's How it Was When We Started to Rock and Roll." Next I think, we're gonna look into "The Moody Blues," and do something. I've sent the thing up to B.B. King's office. I met him many years ago and he liked the way I did the blues. No I was backstage one night and this very well dressed black man came back to the dressing room and put his arms around me and says, "I gotta give ya a hug. That 330 blues was the same song I played on stage every night and still do. That blues was so good, I gotta give you a hug. It was so good I gotta give you a kiss on the cheek." And he kisses me on the cheek and I'm standing there with my arms pinned to my sides, I didn't know who this guy was. And he steps back and he realizes and he says, "Oh, I didn't introduce myself did I? I'm B.B. King." And I said, "Oh my Lord. I gotta give YOU a hug and a kiss on the cheek!"
What would be the biggest piece of advice that you would give to an aspiring guitarist?
Nobody can tell ya how it's gonna be, until you do it. I can't tell ya what to expect or how you're gonna feel. You don't know until it happens to ya. So I guess my best advice would be to hang in there and give it your best shot. Just pick what ya like and stick with it. The instrument, the guitar, is so great anyway, that everybody approaches it in a different way. Everybody has a unique and individual approach and something to say with it. I love to hear all guitar players. I always learn something from them, or notice stuff they do. Everybody might play the same song I'm playing, but they will play it with their own touch and feel.
___
Source: www.gibson.com