On April 5, 2000 CountryCool.com was live in the Green Room, (Ryman Auditorium) backstage at the Chet Atkins' Musician Days "Witness History III" concert. It was a tremendous night for country music when tons of legendary artists came by to play together and to celebrate the musical heritage of Duane Eddy. Our webcams captured four of the artists present as they sat down to chat with our members online. Here is the transcript of the chat we had with Duane Eddy.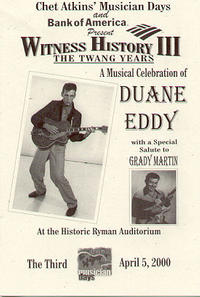 rootsmusic: Duane, I can't believe you haven't recorded with Chet yet, how about it for your next (long-awaited) album?
Duane Eddy: I have recorded with Chet on an album with David Holt called Grandfather's Greatest Hits..and we did a song called "Dixie" together.
pierre: Will Duane be performing in Canada in upcoming years?
Duane Eddy: I hope so! Who knows
sailor: Hi Duane. What kind of guitar was your first?
Duane Eddy: Boy - well the first one I bought was a Les Paul Gold Top, 1953.
jerry98: Duane, how does it feel to be inducted into the rock and roll hall of fame?
Duane Eddy: Wonderful. Now I've got a place to leave all my junk.
avrilc: Hey Duane. Just wondering, have you ever been here to Dublin, Ireland?
Duane Eddy: Yes, with the Everly Brothers 8-9 years ago. We did a show in Dublin and one in Belfast.
jerry98: Duane, who most influenced you in guitar playing?
Duane Eddy: Chet Atkins, Merle Travis, and Les Paul. I had a lot of other influences as well that weren't necessarily guitar players, such as country artists. I always loved their unique individual style and the authority with which they delivered their songs. So I took those same principles and applied them to my sound.
sailor: Duane, what is the song you most like to play--the one you enjoy playing the most?
Duane Eddy: On stage I love to do my hits because they usually get the biggest reaction. Although I do enjoy "330 Blues," just for the fun of it. I'll be playing "330 Blues" with John Fogerty tonight - that's the plan anyway.
rootsmusic: Duane, was your dream always to be a rock 'n roll star?
Duane Eddy: No, actually my dream was to be a country star. I listened to the Grand Ole Opry all the time. I wanted to play like Chet and sing like Hank. And I never did get to do either one. But I did get to play a Hank Williams song on the GOO with Chet Atkins about 3 years ago. Which was a big thrill for me
jerry98: Duane, have you done any recording sessions while in Nashvile this time?
Duane Eddy: I live here, so I've done several.
taymax: Duane, have you played with many country artists? Who is your favorite?
Duane Eddy: My favorite is George Jones - I've not gotten to play with many. I did a track with Emmylou Harris a while ago - and David Holt, and that's it so far.
I hate to say this, but I have to go and get ready - get dressed - because my show is about to start within the next hour. So regretfully I have to say goodby to everyone who is logged on here. Thank you! And I hope I get to talk to you again soon. Hi Jim Grant and all the rest of my circle of friends! Good night!