An All-Too-Short Interview With
Mr. Jimmy Dell
By Dave Acker
JIMMY DELL -- Duane Eddy's boyhood friend -- is an evangelist for the Church of the Nazarene in Phoenix, Arizona. In 1956 he and Duane cut what was to become one of the most sought -- after records in music history. SODA FOUNTAIN GIRL -- is now a very valuble item on the Oldies Market. Later, Mr. Delbridge - his real name-went on to record such solo hits as TEENIE-WEENIE and COOL IT, BABY for RCA. Currently he travels the globe presenting his own special brand of music.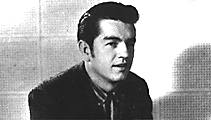 DA: How did you and Duane begin in music?
JD: We started on a radio show in Coolidge, Arizona. That was KCKY. Lee Hazlewood was a DJ there and we did a radio show for him. We were doing a country music thing at the time; we played and sang. I played piano; Duane played the guitar. It was a fiftenn-minute or twenty-minute show every Saturday night. This was back in '55-'56. Then in 1957 we did a TV show on KTVK, Phoenix called "THE HIT PARADE." Ray Odum was emcee.
DA: How did you and Duane meet?
JD: We went to school together. I heard he played guitar -- at that time, I played guitar too, and we got together and practiced. He suggested once that I take up the piano, and from there we started a group. We were together for about three years. He and I were just like brothers, whenever you'd see Duane, you'd see me.
DA: How did you two happen to hook up with Lee Hazlewood.
JD: We went down to audition...just started hangin' around him, going to his place, and to ballgames with him. He sarted to help us with our careers. He used to take us up to Madison Square Garden (in Phoenix) years ago. We'd sing with The Playboys, a local group at the time. We'd sing three or four songs on a Saturday night.
DA: Did you play many nightclubs here?
JD: The Riverside Ballroom, Sarge's, Stags....We really had a band! It was composed of Duane, Al Casey, Buddy Long, Doff Payer and me. We had one of the best bands in the state for quite a while. I remember...there was a big sign outside of one of the clubs that said: "Duane Eddy, Jimmy Dell and Doff Payer" and everybody thought Doff Payer was an instrument! (laughs) We really drew some fantastic crowds, too!
DA: What was the "Soda Fountain Girl" session like?
JD: That was done after we did our nightclub act...at about two in the morning. We got some musicians from different clubs together; they came over to the studio, and we worked all night. We were really tired, too...laughing 'cause we were so tired...It was a very exciting time 'cause Lee was there...he did the whole thing...wrote and produced it. I really enjoyed that time! SODA FOUNTAIN GIRL was recorded at Audio Recorders where Duane later recorded most of his hits.
DA: Tell us abut your recording career.
JD: When Duane and I went our different ways, I went with RCA. My first song -- TEENIE WEENIE -- was a hit. Duane went with Jamie and had many of his hits about this time. I'd signed a contract with REV Records in Phoenix (owned by Audio Recorders) and they sent the master to New York. RCA heard the song -- TEENIE WEENIE -- and bought the contract, then put the record out. Back then, I traveled with the Everly Brothers, Paul Anka, Sam Cooke, Frankie Avalon, Jimmie Rogers...about twenty stars covered the country with me.
DA: Is there a great difference in what you once did and what you do now?
JD: Right now I'm a full-time Evangelist for the Church of the Nazarene. I recently got back from a trip to the Philipines, New Zealand, Singapore and Hawaii. Actually, I do a lot of thing I used to do in show business. I tell jokes, I use the same beat in my music -- only its church music. I try to appeal to the teens. I try to urge everyone to attend church, and to have fun! Mine is a different type of Ministry. I'm basically an entertainer. I've just turned evangelist and I'm trying to prove to people that you can have fun and still enjoy church.
DA: How do you remember your association with Duane?
JD: Duane was always a likeable guy...just everyone liked him. He is a super guy. He took time for you. Most guys don't do that, but he took time to say hello and ask after your health. He is very interested in people, and they sense this and appreciate him for it...Duane was basically a quiet person; he wasn't loud, but he sure did enjoy a good time. I was always the loud one of the group...always telling jokes. Duane was always the quiet one. I cherish the times I spent with him.
---
| News | | Duane's MySpace | Tabs | Lyrics | Photo Gallery | Chart Positions | Discography | Sheet Music | Links | Picture Sleeves | Movies/TV | Multimedia | Concert Posters | Duane's Facebook Page | Promo Ads | Contact Duane | Time Line | Guestbook | Duane's Official Web Site | Email |
---