Interview With Lester Sill

By Dave Acker

Lester Sills career in the music industry has spanned more than three decades. His contribution as a publisher, producer and record executive were instrumental in the develpoement and success of contemporary music in the 20th century America.

From his early days in the industry working with Duane Eddy, Lionel Hampton, The Coasters, Laverne Baker, The Paris Sisters and many others he has pioneered the belief that music is a joy and inspiration for all.

Together with Phil Spector, Sill insured the success of The Ronnettes, The Crystals, Bobb B. Sox and The Blue Jeans. He aided such names as Carole King, David Gates, Mac Davis, Boyce and Hart in the publishing business.

In this brief interview for Guitar Star, he remembers his association with Duane Eddy and Lee Hazlewood.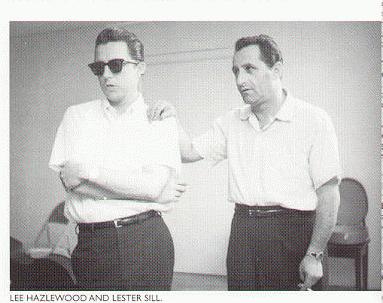 DA: Can you tell me how you became acquainted with Lee Hazlewood?
LS: A friend who came into my office to work for me...around 57..58...he intruduced me to Lee..who came from Phoenix to LA to for Dot Records. I was doing some independent work. He mentioned to me he was going to Phoenix to cut some demos...some masters...of people he wanted to give a start and to look over some other talent. I decided to go down with him..and Duane was one of the guitar players...and it went from there.
DA: I understand many record companies turned down Duane's first recordings.
LS: We went to Harry Finfer at Universal Distributers..who handled Jamie Records at the time..and distributed it for us nationally.
DA: It is true that you dubbed Duane's guitar playing as "Twangy?"
LS: Yes.... I heard the expression somewhere... I said it was so damned twangy..you know...
DA: Who named most of Duane's records?
LS: Lee Hazlewood named most of them. I think I gave them "Ramrod" and "Moovin' 'N' Groovin" "Rebel Rouser" was Lee's. But "Moovin' 'N' Groovin" I remember saying "the session is really Moovin' and Groovin" along.
DA: Did you make any actual contribution to the actual sessions?
LS: Some... but is was not that contributory... it was mostly Lee. I was helpful in certain sounds..but it was basically Lee. I did the Rebel yells on Rebel Rouser and Forty Miles of Bad Road.
DA: There are several obscure records turning up that purpotedly feature a very young Duane on guitar...did you have anything to do with any of them?
LS: We cut alot of obscure records...that Duane worked on. Things like "Aint No Freckles", "A Teenager Feels It" I could go on and on...these were done for our record company...Trey Records. I don't think Duane got label credit on those.
DA: Any memories of those times with Duane and the Rebels..?
LS: Plenty! Duane was sort of a laid-back guy. The musicians were really funny guys What I liked about it was that it was a one track studio. A monaural studio. Ramsey's Recording Studio. When your successful, most of the memories are pleasant. That's what happened down there...we loved the weather...the studio. We've done a lot of stuff in Phoenix.
DA: When did your association with Duane and Lee end..and why?
LS: Well, Duane, Lee and I are still friends. What happened was.. Lee felt he wanted to go his way...producing and so forth. Actually, Lee and I stuck together and Duane left. He stayed with Jamie Records. Actually, there just wasn't enough happening for all three of us. Duane left because he felt there was a creative difference between him and Lee. Lee and I broke up around '62, I think.
DA: Can you tell us about the Gregmark Record that was released called "Caravan". Although it bears Duane's name, it was actually done by Al Casey.
LS: I remember the incident vaguely, but I can't remember it well enough to give confirmation on it. Lee would be better equipped to answer that for you than I would.
DA: We've made some overtures to Lee about an interview, but have been declined. We would like to get all these facts straight because so many rumors seem abound concerning some of Duane's records. We're very much interested in it.
LS: Why?
DA: We're fans. We'd rather go to the source rather than depend on all the rumors...all the heresay. For instance...the rumor was started in a foreign publication that Duane's first hits were recorded in a grain silo outside the main studio...
LS: (Laughs) The only thing that ever resembled a grain silo was the echo chamber ...it was a big water tank!
DA: And there dies another rumor! What can you tell us about this TV pilot film you made called "THE QUIET THREE?"
LS: I could tell you alot about that...we were way a head of ourselves on that. I have the original tape in my garage. We had a great idea...and had a script written...and we just missed with it.We took it to some people...and we bombed out selling it. Some of it was good, some bad, but it was a good show.
DA: Who played in it besides Duane?
LS: I don't know...Lee would know. That's over fifteen years ago.
DA: Who produced it?
LS: Lee, myself and a fella named Ben Demotto. He's a multi millionaire now. He did alot of traveling with Duane when he went to England. He did Rebel Rouser yells off stage.
DA: Do you ever hear from any of the former Rebels...Larry Knechtel, Jim Horn.
LS: Larry and I are good friends...he's with Bread now. I run into Jim Horn on occasion...and Steve Douglas, the original sax player..he's now Bob Dylan's sax man. I have some old, old pictures that we took at the bowl (HOLLYWOOD BOWL) that I'll send you.
DA: We've been trying to track down some of Duane's recordings for Colpix Records..but its difficult since they're no longer in business.
LS: Well, they were sold when we started Colgems Records. They sold all the masters to a guy in NY called Al Masler.
DA: It's rumored that you personally have several of Duane's un-released Jamie Masters.
LS: I don't think so...I don't know what we have that is unreleased. If we didn't release them, they weren't any good. I think everything we recorded was released.
DA: You were involved with The Sharps. Who were they...did any of them go on to become solo acts on their own.
LS: They went into oblivion. I can't remember their names.
DA: Thanks for your time and Good Luck to you.
LS: It's been my pleasure.
---
---
| News | | Duane's MySpace | Tabs | Lyrics | Photo Gallery | Chart Positions | Discography | Sheet Music | Links | Picture Sleeves | Movies/TV | Multimedia | Concert Posters | Duane's Facebook Page | Promo Ads | Contact Duane | Time Line | Guestbook | Duane's Official Web Site | Email |
---