Mini Interview With Vito Piccone
By Lou Antonicello
Vito Piccone was the former lead singer with the Elegants, whose "Little Star" was a number one record during 1958. Lou conducted this interview during the 1979 Collector's Awards, which were held at the Dorian Manor in Old Bridge, New Jersey.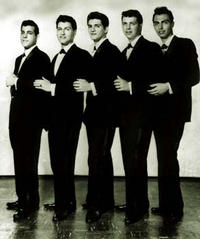 The Elegants w/Vito 1st on the right.
Vito: Are you the guy with Duane Eddy?
Lou: Yes, I am.
Vito: Great! I want to talk to you. Do you ever talk to him?
Lou: From time to time.
Vito: Well, next time you do, would you give him my regards. Tell him that Vito Piccone was asking about him. He'll know.
Lou: Did you ever work with Duane?
Vito: Yeah, we did a tour together during '58. It was a lot of fun!
Lou: Fifty-eight. That was a good year for you both, wasn't it?
Vito: Yeah! I've always wondered about Duane. We haven't crossed paths, but he was a heck of a nice guy. He was a lot of fun on that tour. The guys (The Elegants) got along great with him!
Lou: How?
Vito: He just loved to have a good time. (He smiles thoughtfully)
Lou: And you haven't seen him in years?
Vito: No, that's why I approached you. I figure Duane and I will probably not see each other anytime soon, so I wanted to get word out to him that it was a great pleasure to have known him...in case I never have the chance to tell him in person. You know, I have this wall in my house covered with all kinds of plaques and awards; pictures and things like that. Well, right in the middle is a thing Duane gave me...written in his own handwriting. It's eye-level and it always gets a big reaction. It's the center of attraction!
Lou: Why don't you put a message to Duane in the Collector's Awards program. I'll see that he gets it.
Vito: That'd be great.
Lou: Thanks alot, and good luck to you.
Vito: It's been my pleasure, I'm sure.
---
| News | | Duane's MySpace | Tabs | Lyrics | Photo Gallery | Chart Positions | Discography | Sheet Music | Links | Picture Sleeves | Movies/TV | Multimedia | Concert Posters | Duane's Facebook Page | Promo Ads | Contact Duane | Time Line | Guestbook | Duane's Official Web Site | Email |
---