Interview With Buddy Wheeler
By Dave Acker
Buddy Wheeler is a former bass player on Duane's early sessions.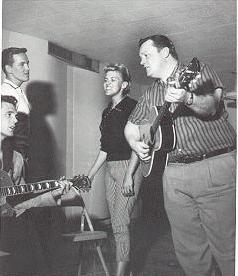 Duane Eddy, Greg Connor, Corky Casey & Buddy Wheeler
DA: You used to work on Duane's early records.
BW: Yeah, I played electric bass on his early stuff..."Rebel Rouser," and on four albums. The last one I did with him was done here in town, the LP "Duane A Go Go."
DA: Did you travel with him?
BW: No, I did some local things with him. At that time, they had what they called the traveling Rebels and the recording Rebels. In the early years, I used to work with Al Casey and Duane would come and sit in. Lee Hazlewood was a local DJ and tried to get Al to play the low string style guitar, but he wasn't interested and Duane was. It sort of happened.
DA: What other major musicians have you worked with besides Duane?
BW: I've worked with a lot of country groups; Hank Williams when I was a kid. Did that for awhile. I worked with most of the big country artists at one time or another. I live in Phoenix and Prescott where I'm working for Rod Hart. He had a record out called "CB Savage." He's done the title song in the movie, "Junior Bonner." They shot a movie up there with Peter Fonda and Brooke Shields and I am doing some work in that.
DA: Music?
BW: No, I'm doing some extra work.
DA: It's interesting that you are in town. I had no idea that any of the Rebels were still here.
BW: Oh, there are a few of us here. Dave Campbell is around. He played on some of Duane's hits. I produced a record at about the same time "Rebel Rouser" was out called, "Need You," by Donnie Owens, and Duane played guitar on it. I was in the production thing for quite awhile. We released on Guyden, which is part of Jamie.
DA: Tell me about the early years when Duane would sit in with you and Casey (when they appeared locally at clubs).
BW: We were workin' at Sarge's Cow Town in South Phoenix around 1956. Duane would come by and sit in quite often; especially on Sundays when we had a jam session in the afternoons. I remember the first thing that I cut with Duane. He'd already done "Moovin 'N Groovin" with an acoustic bass and then Hazlewood wanted to try an electric bass. This was in 1958 and I'd never played one. Al says, "Well, I'll teach you how." I said ok. That's when we went in and did "Rebel Rouser." At that time, Al had done some work with Jody Reynolds on "endless Sleep." This bass I'm talking about was Jody Reynold's bass. That's how I got to playing electric bass in the first place. He'd left it here and my wife (who's also a musician), borrowed it to use and scratched the back of it. We bought Jody a new one and just kept the old one. I still have it. It turned out to be a good move because I went on to do other sessions with Duane and others.
DA: Did you ever work Hazlewood's sessions?
BW: Yeah, when we had LHI Records, I was a staff writer. I did quite a few things for him as a writer. I wrote many things for Virgil Warner. Let's see, "Cryin' Shades," "Next to Her." I also worked with Alan Freed (famous DJ in the 50's) and we wrote quite a few things together when he lived in Palm Springs. I don't believe any of them have been recorded so far. Inga Freed, his wife, used to call me all the time, about once a month from New York just to say hello. Alan was kind of disturbed back then. He had to take the brunt of that payola scandal in the early 60's. Even then he was drinking heavily and the doctors told him he wouldn't make it if he didn't stop. I don't think he really wanted to. He never talked about those investigations into payola. Everybody else went scot-free and he got the whole thing. He'd lost a $250,000 home back in Philly. I guess he lost almost everything.
DA: Are you familiar with the "Soda Fountain Girl" record on which Duane sang?
BW: I remember when he was cutting it and we were chased out of the studio (laughs). He didn't want anybody to hear it. We did the track and he went in and put a vocal on.
DA: Name another local place where you performed with Duane before he got big?
BW: There was a big ballroom called Sire's that we played. Duane would come and sit in when he got back in town. Then when Duane went on the road, Al joined him, and Al's wife Corky, worked there with me. I worked with Mirriam on some sessions. In fact, we made a trade out deal with Duane so we could get her contract. We had publishing on a Laverne Baker record called, "Bumble Bee." We had a record of it and Duane I think, if I remember right, was responsible for getting a cover for Laverne Baker and two or three other artists came out with it. It was fairly big. It made quite a little money. Then we had to split publishing with him. He gave us all the publishing and he retained the foreign publishing in trade for Mirriam's contrct.
DA: Do you keep in touch with the ex-Rebels?
BW: Every now and then I run into Al Casey...the others...no. We were fairly good buddies for a long time. When he visits Phoenix, if I'm in town, he'll stop by. I keep in touch with Bob Taylor. He played drums on some of Duane's early things. He manages a steak house, last I heard. He plays now and then. He and I went into a publishing deal. We did quite a few things for Phillips, Mercury and Columbia. We did some things thru Veejay Records with Freed. We never had a hit, though (laughs).
DA: Duane says you designed and rebuilt his first amp.
BW: Yeah, That was when Fender was in its early years and a friend of mine, Dick Wilson and I were into amps, trying to increase the trebel and bass response and the things musicians were getting into.
DA: Duane gives you a lot of credit for his sound.
BW: Bless his heart!
DA: Have you any stories about session work with Duane?
BW: They had a metal tank which was responsible for some of the echo. It set outside. Every now and then when it would rain and lightning, or when a big truck went by, they'd have to close down the session. One time, I was kinda bored and I put a cherry bomb in the tank. I don't think Lee appreciated that! (laughs). I remember another time. I think it was when we did the "Duane A Go Go album (1965). Hazlewood was a very "sound" concious person. We'd worked all day long on one or two songs, and Lee wanted a certain sound. We finally got it like he wanted, after a whole day, and when we came to work the next day, Jack Miller had accidently erased it. Lee had a little bit of a temper, but I can't recall him getting too upset that time. He just said, "Well, this is bound to happen." He once threw a coke bottle against the wall when he couldn't get us to quiet down. Lee was a creative man. He and Duane worked well together.
DA: Can you give me some background on yourself?
BW: I started when I was 16. My brother and I had a duet. Country music. I played steel guitar on the side. I played mandolin and he played guitar. We worked with a group in Washington, D.C. In about 1948, we worked the first network tv show, about sixteen stations. This was at Constitution Hall. I've worked with Hank Penny. Then, we moved to Phoenix and I did some local tv with Marty Robbins. I've worked with many of the groups from the WWVA Jamboree and Grand Ol' Opry.
---
| News | | Duane's MySpace | Tabs | Lyrics | Photo Gallery | Chart Positions | Discography | Sheet Music | Links | Picture Sleeves | Movies/TV | Multimedia | Concert Posters | Duane's Facebook Page | Promo Ads | Contact Duane | Time Line | Guestbook | Duane's Official Web Site | Email |
---